Cornish Game Hens With Crabmeat Stuffing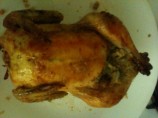 Photo by Coconuttrishy
Prep Time: 30 mins
Total Time: 1 hr 30 mins
Yield: 4 hens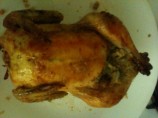 Photo by Coconuttrishy
About This Recipe
"I found this recipe in Homecooking.com when someone was asking for Crab stuffed cornish hens. This looked so good, I thought I would post it."
Ingredients
4 rock cornish game hens

3 tablespoons vegetable oil

salt and pepper, to taste

garlic powder, to taste

paprika

1/2 cup butter

1 garlic clove, finely chopped

1/8 cup parsley, chopped

1/4 green onion, chopped

1/4 cup celery, chopped

8 ounces lump crabmeat or 8 ounces imitation crabmeat

1/2 teaspoon salt

1/4 teaspoon pepper

1 cup fine dry breadcrumb

1/3 cup half-and-half
Directions
Preheat oven to 350.

Wash hens inside and out with cold water.

Pat dry with paper towels.

Rub oil lightly over hens.

Season inside and out with salt, pepper, garlic powder and paprika.

STUFFING.

Melt butter in large pan.

Saute garlic, parsley, green onion and celery till soft.

Add crab meat, salt and pepper.

Stir gently.

Don't break up crab too much.

Turn heat down to simmer.

Add bread crumbs and half and half a little at a time so mixture is not too dry.

Remove from heat.

Divide stuffing between hens and stuff into cavities.

Tie legs together and place on rack in roasting pan.

Bake for 1 hour.

Internal temp should read 180 degrees.