New England Soup Factory's Spicy Chickpea and Butternut Soup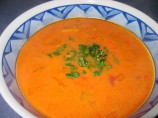 Photo by Chef @Oz
Prep Time: 15 mins
Total Time: 1 hr 15 mins
Servings: 12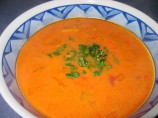 Photo by Chef @Oz
About This Recipe
"When we lived in Boston, we loved to get soup from the New England Soup Factory, known for their hearty and unusual combinations. This is one of their recipes. Although it's a 'cream' soup, since the base is coconut milk it remains vegan. The coconut is perhaps not what you're used to seeing with chickpeas and butternut but it really adds a sweet richness and fullness."
Ingredients
3 tablespoons olive oil

1 tablespoon chopped fresh garlic

2 cups finely chopped onions ( I use much less!)

1 cup celery ( minced or diced)

2 cups carrots, sliced

6 cups butternut squash, peeled and cut into chunks

2 cups canned tomatoes, diced

4 quarts well-flavored vegetable stock

2 cups tomato juice

1/2 cup soy sauce

1/4 cup fresh lime juice

2 cups canned chick-peas

1 tablespoon ginger

1 tablespoon ground coriander

1 teaspoon minced scotch bonnet pepper

1 (14 ounce) cans coconut milk

1 cup flaked coconut

1 tablespoon fresh cilantro, chopped

1 teaspoon coconut extract
Directions
Heat olive oil and garlic in a large heavy stockpot.

Sauté 1-2 minutes.

Add onions, carrots and celery.

Sauté 10-15 minutes.

Add squash, canned tomatoes, stock, tomato juice, soy sauce, lime juice, chickpeas, ginger and coriander; bring to a boil.

Cook until all the vegetables are tender, approx 30 minutes. Add coconut milk, flaked coconut, coconut extract and cilantro, warm through.