Irish Cream Cheesecake With Mixed Berries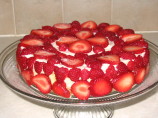 Photo by packeyes
Prep Time: 20 mins
Total Time: 1 hr 30 mins
Servings: 12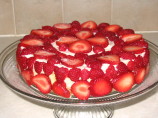 Photo by packeyes
About This Recipe
"Luscious, rich, delicious."
Ingredients
Crust

1 cup graham cracker crumbs

3 tablespoons sugar

3 tablespoons butter, melted

Filling

3 (8 ounce) packages cream cheese, room temperature

1 cup sugar

2 teaspoons vanilla extract

1 cup sour cream

1/3 cup baileys irish cream

4 large eggs

Topping

1 cup sour cream

1/4 cup sugar

Garnish

1 (1 pint) container strawberry, stemmed,halved

1 (1 1/2 pint) containers raspberries

1 (1 1/2 pint) containers blackberries

sugar
Directions
For crust: Preheat oven to 350°F Mix all ingredients in small bowl.

Press crumb mixture onto bottom (not sides) of 9-inch-diameter springform pan.

Bake until brown and fragrant, about 8 minutes.

Cool.

Maintain oven temperature.

For filling: Beat cream cheese, sugar and vanilla extract in large bowl until well blended.

Beat in sour cream and Irish Cream liqueur.

At lowest mixer setting, add eggs, 1 at a time, beating until just combined.

Pour filling into pan.

Bake until edges are puffed and center no longer moves when pan is shaken, about 50 minutes.

Cool cheesecake 10 minutes.

Maintain oven temperature.

Prepare topping: Mix sour cream and ¼ cup sugar in bowl until smooth.

Press down edges of cheesecake to flatten.

Spoon topping over hot cheesecake.

Bake 10 minutes.

Remove cheesecake from oven and cool.

Cover and refrigerate overnight.

Combine berries in large bowl.

Season to taste with sugar.

Release cheesecake from springform pan.

Serve with berries.