Philly Cheesesteak Sandwiches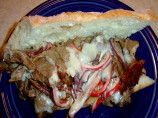 Photo by Sue Lau
Prep Time: 10 mins
Total Time: 25 mins
Servings: 4-5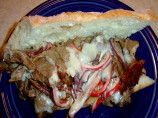 Photo by Sue Lau
About This Recipe
"Easy and quick to make. I like using provolone cheese although you can use cheddar spread (melted Velveeta or Cheez-Whiz) if it suits you."
Ingredients
24 1/2 ounces Steak-ums or 24 1/2 ounces shaved rib eye steaks

4 -5 split fresh hoagie rolls or 4 -5 French bread

1/2 lb sliced provolone cheese or 1/2 lb melted cheddar cheese, spread

8 ounces sliced fresh button mushrooms (optional)

1/2 green pepper, thinly sliced (optional)

1/2 large sweet vidalia onion, thinly sliced (optional)

2 tablespoons olive oil

1 pinch kosher salt

1 pinch black pepper

1/2 cup sliced banana pepper

mayonnaise or yellow mustard
Directions
In a large skillet, heat olive oil and add sliced mushrooms, green pepper, onion, salt and pepper (if using).

Cook over medium heat 8-10 minutes or until tender and onions begin to caramelize.

If slicing your own bread, it works best if the bread is not sliced all the way through, but sort of hinged at one side.

Place 5-6 ounces frozen steak-umms on a heated griddle or frypan and cook until nicely browned, shredding meat with forks or a spatula as it thaws and cooks, and shaping meat into a bun-shaped pile.

Drain off any fat as it accumulates in the pan.

Place some of the cooked vegetable mixture on the pile of cooking meat.

When meat is done to your liking, place opened hoagie roll over meat and use a long spatula to lift sandwich and turn it over.

Put any dropped filling into the bun.

Add sliced banana peppers to sandwich and any condiments (mustard or mayo).

Place 2 (1-ounce each) slices provolone cheese over filling (or you may add melted cheddar spread at this point).

Microwave sandwich for 30-45 seconds or until bun has softened and cheese is melted, if desired.

Slice in half and serve hot.

Repeat with remaining sandwiches.