Southwestern Chicken and Bean Soup (Crock Pot)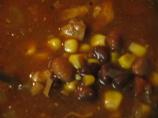 Photo by Vino Girl
Prep Time: 20 mins
Total Time: 6 hrs 20 mins
Servings: 4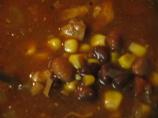 Photo by Vino Girl
About This Recipe
"This soup has a good chili flavor and is simple to pull together even when the refrigerator is looking pretty bare. I do substitute fresh ingredients when I have them and the time to prepare them, but I list canned ones here for convenience (and they do taste pretty good anyhow!). I leave the seeds in my chili pepper, but take them out if you want a milder taste, and adjust the seasonings accordingly as well. This soup is very flexible - it's a good way to use up leftover chicken, beans and corn, and I believe you could use ground beef or turkey or TVP in this just as easily as chicken breast. I found a 6 can soup recipe on the web, but I altered it so much that it became something new, and this is the result."
Ingredients
1 (15 ounce) cans black beans, drained and rinsed

1 (15 ounce) cans kidney beans, drained and rinsed

1 (14 1/2 ounce) cans diced tomatoes

1 (15 1/4 ounce) cans whole kernel corn

1 (12 1/2 ounce) cans chicken breasts

1 (8 ounce) cans tomato sauce

1 (14 ounce) cans chicken broth

1 onion, chopped

1/2 green bell pepper, chopped

1 chili pepper, chopped

4 garlic cloves, minced

1/4 teaspoon ground cayenne pepper

1 teaspoon ground cumin

1 teaspoon chili powder

1 1/2 tablespoons dried parsley

2 tablespoons fresh lime juice

fresh ground black pepper, to taste

shredded cheddar cheese (optional) or monterey jack cheese (optional) or monterey jack pepper cheese (optional)

sour cream (optional)

tortillas (optional) or corn chips (optional)
Directions
Drain and rinse the beans and place in a 6 quart crock pot.

Add the chicken, corn, and tomatoes with their juices to the beans.

Add the remainder of the ingredients and stir.

Cover and cook on low for 6 hours or more.

We like this better the second day, and really don't think it can be overcooked!

Serve the soup in large bowls and top with cheese, sour cream, and/or chips, if desired.