Tofu and Noodle Salad With Peanut Sauce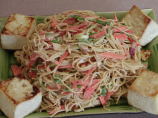 Photo by Rita~
Prep Time: 20 mins
Total Time: 50 mins
Servings: 4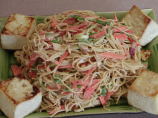 Photo by Rita~
About This Recipe
"This is just really yummy! A terrific after-work, summertime meal. I found this one in the Daily Herald and they attribute it to John Ash. I find the noodles, radish and pea shoots in my local Oriental grocery store. Prep time doesn't include marinading time."
Ingredients
1 lb firm tofu, drained

1/3 cup soy sauce

1/3 cup mirin ( sweet rice wine)

2 teaspoons peeled and minced fresh ginger

8 ounces soba noodles or 8 ounces other thin noodles

6 ounces daikon radishes or 6 ounces other radishes, cut into long matchstick shapes

2 cups fresh pea shoots

1 cup carrot, cut into fine matchstick shapes

Coconut or Peanut Sauce

3 tablespoons smooth peanut butter

1 teaspoon asian chili paste with garlic

3 tablespoons chicken broth or 3 tablespoons water

1/3 cup coconut milk

2 teaspoons packed brown sugar

2 tablespoons fresh lime juice

1 -2 tablespoon soy sauce, to taste
Directions
Slice the tofu into 4 equal pieces; combine the soy sauce, mirin and ginger; marinate the tofu in this mixture in the fridge for at least 30 minutes and up to 4 hours, turning it occasionally; remove it from the marinade and gently wipe off any solids.

Heat oven to 400°; lightly oil a baking sheet and arrange tofu on it and bake for 20-25 minutes; remove and set aside.

Sauce: Combine sauce ingredients in a blender and blend until smooth, it should have the consistency of heavy cream; you can do this ahead of time and store in the fridge for up to 5 days then bring to room temperature before using.

Bring a large pot of lightly salted water to a boil and cook the soba noodles until al dente, 4 minutes or so; drain the noodles and rinse them very well with cold water; place in a bowl and toss with the radish, pea shoots and carrots along with about half of the peanut sauce, or more as you desire.

Divide the mixture among 4 plates or shallow bowls and top with the pieces of tofu and drizzle with a bit more of the sauce.

For Vegetarian use the water not the chicken broth.