"I Stole the Idea from Mirj" Sesame Noodles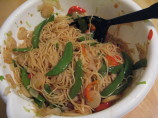 Photo by Rhondapalooza
Prep Time: 10 mins
Total Time: 18 mins
Servings: 4-6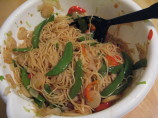 Photo by Rhondapalooza
About This Recipe
"I love Mirj's Funky Chicken with Sesame Noodles. I decided to use the noodles as my inspiration for this recipe. It's really similar but totally different. We liked it and I hope others will too! Cook time is the time it takes to make the pasta. *UPDATE* Since posting this, I tried adding about 1/2 teaspoon of red pepper flakes and it turned out wonderfully so I decided to add it as a suggestion."
Ingredients
1 lb angel hair pasta

1/2 cup toasted sesame oil

1/3 cup soy sauce

1/3 cup honey

3 cloves garlic, minced fine

4 green onions, sliced

2 teaspoons toasted sesame seeds

1 lb stir fry vegetables, steamed ( I used broccoli, carrots, water chestnuts and red peppers)
Directions
In a large pot, cook your angel hair pasta until almost al dente; drain well, put in a bowl and set aside.

In a small tupperware container with a lid, mix sesame oil, soy sauce, honey, garlic and sesame seeds.

Put the lid on the container and shake, shake, shake it like a polaroid picture.

Pour the sauce over the angel hair and toss well; the heat of the pasta will cook the garlic a bit so it won't be totally raw.

Mix in the green onions and stir fry veggies.

Serve.