Apple Tartlets With Nutmeg Scented Orange Custard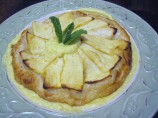 Photo by mary winecoff
Prep Time: 20 mins
Total Time: 55 mins
Servings: 4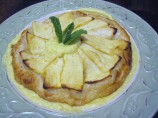 Photo by mary winecoff
About This Recipe
"I love apple pies. All kinds of apple pies and this is a different recipe yet again. I really hope you enjoy this recipe. Its very special."
Ingredients
Tartletts

2 tart apples, peeled, thinly sliced

1/2 lemon, juice of

3 teaspoons white sugar

1/2 lb frozen puff pastry, thawed ( 1 sheet)

1/4 cup butter, melted

Nutmeg Scented Orange Custard

2/3 cup milk

2 large egg yolks, room temperature

2 tablespoons white sugar

1/2 teaspoon vanilla extract, pure

1 small orange, grated rind

1/8 teaspoon nutmeg, freshly grated
Directions
Nutmeg Scented Orange Custard: In small pan, scald milk, remove from heat, set aside.

Over double broiler beat egg yolks and sugar until thick. Add milk in slowly. Cook over simmering water, whisking constantly for 10 minutes.

Remove from heat and add vanilla, orange rind and nutmeg. Place a piece of plastic wrap over custard to prevent a skin from forming, cool and chill. Custard may be served warm or cold.

Apple Tartlet: Preheat oven to 425 degrees. Place thinly sliced apples in small bowl and toss with lemon juice and 2 tsps sugar.

On lightly floured board lay out the puff pastry. Cut out 4 circles 5" in diameter. Sprinkle the baking sheet with water and place the pastry circles on sheet.

Brush the circles with butter and sprinkle with the remaining 1 tsp sugar. Place the apples over the circle in a pinwheel type pattern, remembering to leave a 1/4" border of uncovered pastry all around. Drizzle remaining butter over the apples.

Bake the tarts for 10 minutes.

Spoon custard sauce onto dessert plate and place a warm tart in the center, spoon a tsp of sauce over apple tart as well.