Brown Rice and Lentil Burgers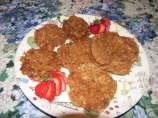 Photo by anniesnow
Prep Time: 1 hr
Total Time: 1 hr 20 mins
Servings: 6-8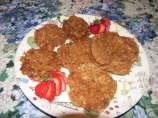 Photo by anniesnow
About This Recipe
"This recipe can also be made into a lentil loaf and served with mashed potatoes and vegan gravy. Served as burgers, they are also very good cold topped with ketchup and mayo."
Ingredients
1/2 cup French lentils, rinsed and drained

1 cup brown rice

2 tablespoons olive oil

2 garlic cloves, chopped

1 medium red onion, chopped

2 red bell peppers, diced

1 teaspoon sea salt

1 teaspoon dried chipotle powder or 1 teaspoon chili powder

breadcrumbs (optional) or white flour (optional)
Directions
In a medium saucepan, bring 1 1/2 cups of water to a boil.

Add the lentils, reduce the heat and cook until softened, about 15 minutes.

Drain and set aside.

Meanwhile in another medium saucepan, bring 2 cups of water to a boil, add the rice.

Reduce the heat, cover, and simmer until the rice is just tender, about 40 minutes.

Drain and set aside.

In a saute pan, heat the olive oil over medium heat and saute the garlic, onion, and peppers until slightly browned.

Preheat oven to 350.

In a large bowl, combine the lentils, rice and vegetables.

Add the salt and pepper powder and mix well.

Add a bit of bread crumbs or flour to hold the mixture together, if needed.

Make into burger-sized patties and place on a baking sheet, or press into a loaf pan.

Bake until slightly firm, about 15 minutes, or bake the loaf for about 25 minutes.