Kittencal's Easy Refrigerator Kosher Garlic-Dill Pickles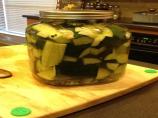 Photo by Caseypratt
Prep Time: 15 mins
Total Time: 168 hrs 15 mins
Yield: 2 pds pickles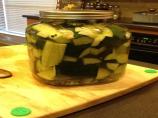 Photo by Caseypratt
About This Recipe
"I make these every year when my pickling cucumbers are ready in my garden, they are really great pickles and so easy to make, add in more garlic and adjust the dill if desired --- these pickles develop in flavor with refrigeration time so allow them to chill at least 7 days or even longer before using, the longer the better, the pickles will keep for months in the refrigerator, use only kosher salt for this not table salt, and make certain to wash the outsides of the cucumbers thoroughly, see note on bottom --- for soaking the pickles in firstly to remove bacteria see my Homemade Vegetable Wash/Preserver That Works! (Spray or Soak)"
Ingredients
6 cups water ( I use distilled bottled water)

1/4 cup kosher salt ( use only kosher salt)

2 tablespoons white vinegar

2 lbs small cucumbers, thoroughly scrubbed

1/3-1/2 cup coarsely chopped fresh dill ( for a stronger dill flavor increase to 3/4 cup)

8 large fresh garlic cloves ( coarsely chopped or sliced, use more for a stronger garlic taste)

8 whole black peppercorns
Directions
Clean the glass jar and lid thoroughly in your dishwasher or with hot soapy water.

Combine the water, salt and vinegar in a saucepan; bring to a boil over medium heat.

Remove from heat; cool to room temperature.

Pack the cucumbers and the remaining ingredients in a 2-quart (2 litre) glass jar, and pour brine (water/vinegar mixture) over them, covering the cucumbers completely.

Store, covered in the the refrigerator.

The pickles will be ready in 7 days, but the longer you leave them in the refrigerator the better they will be and will keep refrigerated for months (if they last that long!).

**NOTE** since the peel is eaten on these pickles, make certain to wash and scrub the outside of the cucumbers well to remove any dirt, I use a small nail brush to scrub the outsides.