Miniature Quiche Lorraine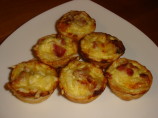 Photo by *Pixie*
Prep Time: 15 mins
Total Time: 35 mins
Servings: 10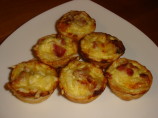 Photo by *Pixie*
About This Recipe
"Delicious and dainty for those posh occasions!"
Ingredients
1 (11 ounce) packages pie crust mix ( or if I have the time I like to use my own)

4 slices bacon

1 small onion, chopped thinly and small

1/4 cup swiss cheese, shredded

1/2 teaspoon salt

1 egg, slightly beaten

1/2 cup light cream or 1/2 cup milk, heated

1/4 teaspoon pepper, freshly ground

1/4 teaspoon nutmeg, freshly ground
Directions
Prepare the crust per directions.

Then roll our the dough and cut the dough into rounds to fit the miniature muffin tins.

Prick the bottoms lightly with a fork.

Bake for 5 minutes or until lightly brown.

Cook bacon until crisp, but not burnt.

Drain and crumble into tiny pieces.

Cook the onion in the bacon fat until soft.

Divide all the onion and the bacon equally into the cups.

Sprinkle each cup equally with the Swiss Cheese.

Combine the rest of the ingredients in a small bowl; blend.

Pour over the cup mixtures.

Bake in a preheated 400°F oven for 15 minute.

Reduce the heat to 350°F and bake for 5-7 minutes longer.

Serve these hot.

They are delicious!

•I have also added bits of mushrooms, since we have a wonderful mushroom farm here.

So good!