All-Purpose Stir-Fry Sauce (Brown Garlic Sauce)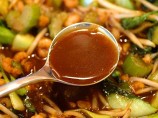 Photo by Sackville
Prep Time: 15 mins
Total Time: 20 mins
Servings: 4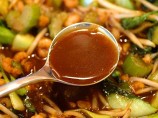 Photo by Sackville
About This Recipe
"Adapted from Martin Yan's Chinese Cooking for Dummies. This is my favorite stir-fry sauce. It makes enough for two meals. Having extra on hand makes for a quick meal. My son will actually eat vegetables he can dip in the sauce! WARNING about the amount of soy sauce. When I used Kikkoman soy sauce, I found this sauce far too salty. I now use Angostura, which is much lower in salt. When adding soy sauce, start with less than half the amount and slowly add more to taste. Using vegetable broth makes this vegetarian. Yield: 1 3/4 cups (couldn't get that amount entered)"
Ingredients
2/3 cup soy sauce

1/2 cup chicken broth

1/3 cup rice wine

3 1/2 tablespoons sugar

1 tablespoon sesame oil

1/4 teaspoon white pepper

2 tablespoons cooking oil

1 tablespoon minced garlic

1 tablespoon minced ginger

2 tablespoons cornstarch

1/4 cup water
Directions
In a bowl, combine soy sauce, broth, rice wine, sugar, sesame oil and white pepper. (See note in intro about the soy sauce).

Dissolve the cornstarch in 1/4 cup water.

Heat a pan over high heat; add the cooking oil, swirling to coat; add the garlic and ginger; cook, stirring, until fragrant, about 15 seconds.

Add the soy sauce mixture; bring to a boil.

Reduce heat to medium and cook for 1 minute.

Add the cornstarch solution and cook, stirring, until the sauce boils and thickens.