Breakfast Burritos for the Freezer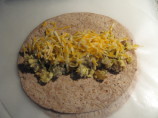 Photo by Mrs. DeVelopment
Prep Time: 15 mins
Total Time: 40 mins
Servings: 24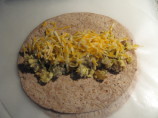 Photo by Mrs. DeVelopment
About This Recipe
"I guess you'd call this OAMC......I've kind of modified it to suit my tastes, but you can put anything in these, or adjust the quanities. Soemtimes, I'll use ham, too"
Ingredients
226.79 g bacon

340.19 g of jimmy dean reduced-fat sausage

1 (226.79 g) bag of frozen home fries or 1 (226.79 g) bag hash browns or 1 (226.79 g) bag O'Brien potatoes

1 (113.39 g) can chopped green chilies, drained

3 dozen eggs ( beaten well)

2 dozen 12-inch flour tortillas

473.18 ml of shredded cheese, any flavor

salsa (optional)
Directions
Cook and drain the bacon and sausage.

Crumble the bacon.

Set aside.

Leave a small amount of grease in the pan, and cook the potatoes.

Be sure the potatoes are comepltely cooked, and properly browned--the texture is funny if you don't.

Combine eggs and green chilies.

Add the eggs and green chilies to the potatoes, and stir.

When eggs are almost done, add the meats, and continue to cook, until eggs are no longer shiny.

Add cheese, and remove from heat.

Stir to combine.

Spread out tortillas on counter.

Spoon the suficient amount of egg mixture on top of tortilla, top with salsa, and roll up, burrito style.

Wrap each individually in waxed paper, then place as many as will fit in a ziploc bag (I usually get 6-8 in a bag) Freeze.

To reheat, leave in waxed paper and set on plate.

Microwave 3 minutes.

Let sit one minute, then unwrap and eat.