Portabella and Gouda Burger with Garlic Mayo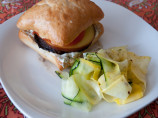 Photo by hlkljgk
Prep Time: 55 mins
Total Time: 1 hr 5 mins
Servings: 2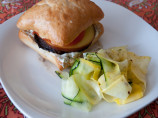 Photo by hlkljgk
About This Recipe
"I prefer a good portabella mushroom sandwich to a typical veggie burger anyday, and this one is excellent. It's juicy, garlicky and cheesy, and really quick. Try it on the grill in the summer, on grilled French bread with garden-fresh tomato ... mmmmmmm! Prep time includes marinating mushrooms."
Ingredients
2 large portabella mushroom caps, cleaned and stem removed

3 -4 slices gouda cheese ( thin slices, smoked is good!)

2 tablespoons olive oil

1 clove garlic, sliced

1 teaspoon dried thyme

2 slices fresh ripe tomatoes ( thick slices)

2 good bakery rolls or 4 slices French bread, lightly toasted

Garlic Mayo

2 tablespoons mayonnaise

1 teaspoon lemon juice

1 clove garlic, minced

2 teaspoons bermuda onions, minced

1/2 teaspoon dried thyme or 1 teaspoon fresh thyme, minced

1/2 tablespoon dried parsley or 1 1/2 tablespoons fresh parsley, minced
Directions
Combine 2 tablespoons olive oil,sliced garlic clove and thyme in a zipper-lock bag.

Add portabella mushroom caps, zip up and marinate for at least 30 to 45 minutes.

In the meantime, combine the Garlic Mayo ingredients and allow to blend in the refrigerator.

When mushroom caps are ready, heat a little olive oil in a skillet (maybe another tablespoon or so) and saute for about 5 minutes, stem side down.

Try to include as much of the sliced garlic and thyme as possible in the skillet.

Turn mushroom caps over and top with cheese.

Cover skillet and cook for about another 5 minutes or until cheese is melted (it will melt very fast, keep an eye on it--).

Alternatively, these are delicious on the grill as well!

Serve with tomato on toasted rolls or French bread spread with garlic mayo.

Really nice with some avocado on the side.