Spicy Swiss Bliss Venison or Pork Chops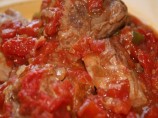 Photo by ~Nimz~
Prep Time: 15 mins
Total Time: 2 hrs 15 mins
Servings: 6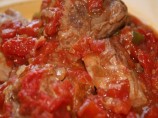 Photo by ~Nimz~
About This Recipe
"I received this recipe from a co-worker. It is a really great way to serve venison, but if you prefer, pork chops work just as well."
Ingredients
1 tablespoon butter

2 lbs venison, cut into 1 inch thick chunks or 2 lbs pork chops, sliced 1/2 to 1 inch thick

1 envelope onion soup mix

1/2 large green bell pepper, sliced

1 (10 ounce) cans Ro-Tel tomatoes or 1 (10 ounce) cans any brand tomatoes and green chilies

1 (14 1/2 ounce) cans diced tomatoes, drain and reserve juice

1/4 teaspoon salt

pepper

1 tablespoon A.1. Original Sauce or 1 tablespoon steak sauce, of choice

1 tablespoon cornstarch

chopped fresh parsley ( to garnish)
Directions
Line a 13X9 inch casserole dish with foil- this foil has to be large enough to fold over and seal tightly after the food is arranged in the dish.

Preheat oven to 350 F.

Spread center of foil with margarine.

Cut steak into serving portions and arrange, slightly overlapping on foil.

Sprinkle with onion soup mix, green pepper, tomatoes and seasonings.

Mix the Steak Sauce with the reserved tomato juice and cornstarch.

Pour over meat and vegetables.

Bring foil up over and double fold edges to seal tightly.

Bake 2 hours.

Roll back foil and sprinkle with chopped fresh parsley.