Roasted Lobster Tails With Ginger Dipping Sauce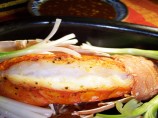 Photo by Hey Jude
Prep Time: 15 mins
Total Time: 28 mins
Servings: 2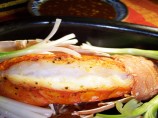 Photo by Hey Jude
About This Recipe
"wonderful romantic dinner from cooking light"
Ingredients
For the Sauce

3/4 teaspoon dry mustard

1/2 teaspoon water

3 tablespoons low sodium soy sauce

1 tablespoon plum sauce

1 tablespoon dry sherry

3/4 teaspoon minced peeled fresh ginger

For the Lobster

2 (8 ounce) frozen lobster tails, thawed

cooking spray

1 teaspoon vegetable oil

1/4 teaspoon dark sesame oil

1/4 teaspoon black pepper

sliced green onion (optional)
Directions
Preheat oven to 425 degrees F.

FOR THE SAUCE: Combine mustard and water in a small bowl; stir well with a whisk.

Stir in soy sauce, plum sauce, sherry, and ginger; set aside.

FOR THE LOBSTER: Make a lengthwise cut through the top of each lobster shell using kitchen shears, cutting to, but not through, lobster meat; press shell open.

Place the lobster tails, cut sides up, in a shallow roasting pan coated with cooking spray.

Combine the oils and pepper, and spoon over the lobster meat.

Bake at 425 degrees F for 13 minutes or until the lobster meat turns opaque.

Serve lobster with sauce, and garnish with onions, if desired.