Rutabaga (Yellow Turnip or Swede) Apple Gratin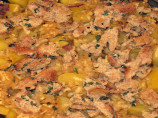 Photo by yogiclarebear
Prep Time: 15 mins
Total Time: 1 hr 5 mins
Servings: 6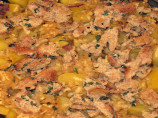 Photo by yogiclarebear
About This Recipe
"Just look at the calories in this dish and it is very reasonable to make! I love this Winter dish, the apples give a balance to the rutabagas strong flavor, If you wish use turnips instead they are very similar. If you are not watching calories double the gratin"
Ingredients
1 rutabaga, peeled, sliced ( apprx 6 cups or use a turnip)

1 tablespoon cornstarch

1/2 cup water

2 medium apples, peeled, grated

1/2 teaspoon salt

1/8 teaspoon pepper, fresh ground

1/8 teaspoon dried savory or 1/8 teaspoon thyme

Gratin

1/2 cup coarse fresh breadcrumb

3/4 tablespoon dried parsley

1 tablespoon butter, melted
Directions
When you have peeled the rutabaga cut it in half lengthwise, then into quarters.

Thinly slice each quarter crosswise and place in boiling water.

Cover and cook apprx 10 minutes or until almost tender.

Drain& set aside.

In a large bowl whisk the cornstarch and water until smooth.

Add Apples, salt, pepper& savory (thyme).

Toss to coat the apples.

Add Rutabagas& gently toss to mix all the ingredients.

Pour into an 8" oven proof dish, cover and bake at 350F (180C) for 20 minutes Meanwhile in a bowl toss the bread crumbs, parsley& butter.

Sprinkle the crumbs over the rutabagas (after their first 20 minute bake), return to the oven uncovered for a further 20 minutes or until the rutabagas are tender.

Broil for a couple of minutes to allow the gratin to get golden.

Serve hot.