Blanched Gai Lan With Oyster Sauce (Chinese Broccoli)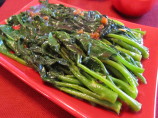 Photo by Rita~
Prep Time: 10 mins
Total Time: 20 mins
Servings: 4-6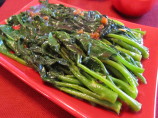 Photo by Rita~
About This Recipe
"Gai lan is Chinese broccoli. I first had this when we went out for Dim Sum. The stalks are crisp the dressing is salty, sweet and rich."
Ingredients
2 tablespoons oyster sauce

1/2 teaspoon cornstarch

2 tablespoons chicken stock

1 tablespoon rice wine or 1 tablespoon dry sherry

1/2 teaspoon sugar

1 teaspoon soy sauce

1/2 teaspoon sesame oil

1 teaspoon finely shredded ginger

1 garlic clove, minced finely

1 -1 1/2 lb gai lan ( chinese broccoli)

1 teaspoon soy sauce

1 tablespoon olive oil
Directions
Combine the oyster sauce, cornstarch, chicken stock, rice wine, sugar, soy sauce, ginger, garlic and sesame oil in a small saucepan.

Bring to a boil and cook until sauce thickens.

Set aside.

Wash the gai lan in cold water.

Trim off and discard the tough bottoms.

Peel stalks if they are thick and tough; leave gai lan whole or cut into thirds.

Bring 1-3 quarts of water to a boil in a wok and add the soy and oil.

Add the greens, bring back to a second boil with lid on.

Turn off the heat and let greens steam for a minute or two.

When the green stalks brighten, test one for doneness.

It should be tender and crisp.

Drain immediately and shake off excess water.

Transfer to a platter, pour dressing over, and serve immediately.