"Stove Top" BBQ (Beef or Pork Ribs)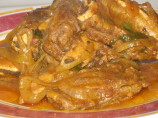 Photo by Chef Sarita in Austin Texas
Prep Time: 30 mins
Total Time: 2 hrs 30 mins
Servings: 3-4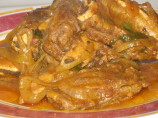 Photo by Chef Sarita in Austin Texas
About This Recipe
"This recipe is from the Paula Deen cooking show on the TV Food Network. Originally shown for beef short ribs only, I have found it works as well with pork ribs. I have increased the amount of sauce ingredients - the original amounts didn't seem to be quite enough to really enjoy!"
Ingredients
3 -4 lbs beef ribs or 3 -4 lbs pork spareribs or 3 -4 lbs pork country-style pork ribs

1/2 cup minced onion

1/2 cup ketchup

1/2 cup water

4 tablespoons fresh lemon juice

4 tablespoons brown sugar

2 tablespoons mustard ( Dijon)

1/4 teaspoon salt ( for the sauce)

salt ( sprinkled on ribs when browning)

2 tablespoons Worcestershire sauce

1 tablespoon vegetable oil
Directions
Cut all ribs into serving size pieces Sprinkle ribs with salt (to taste) In a Dutch oven, brown ribs on all sides in veg oil over medium heat Remove ribs from pot Saute onions in pot until lightly browned Return ribs to pot Combine all remaining ingredients in a bowl and mix together- Add to pot Cover pot and cook over low heat for approx 2 hours, or until tender, stirring occasionally.