Creamed Chicken and Biscuits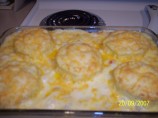 Photo by children from A to Z
Prep Time: 10 mins
Total Time: 45 mins
Servings: 6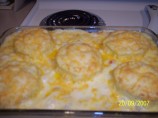 Photo by children from A to Z
About This Recipe
"I got this recipe from some cards I received in the mail. The ingredients listed as optional are ones I don't actually use based on my preferences, but they are used in the original recipe. I hope you like it!"
Ingredients
1/2 large onion (optional)

1 1/2 teaspoons butter (optional)

4 cups cooked chopped chicken

1 (10 3/4 ounce) cans cream of chicken soup

1 cup sour cream

1/2 cup milk

1/2 cup chopped pimiento (optional)

1 cup shredded cheddar cheese, divided

6 large biscuits ( frozen, thaw before adding, canned, or homemade)
Directions
Preheat oven to 350°F and grease the bottom and sides of an 11x7 baking dish.

If using, chop the onion, melt butter in skillet, add onion and sauté until tender.

Combine onion, chicken, soup, sour cream, milk, and pimiento in a medium bowl and mix well.

Spoon mixture into prepare baking dish and bake for 15 minutes.

Remove from over and sprinkle with 3/4 cup cheddar cheese, arrange biscuits in a single layer, then sprinkle with remaining 1/4 cheese.

Bake for 20 minutes more or until biscuits are golden brown and sauce in bubbly.

Enjoy!