Crock Pot Short Ribs in Ancho Chile Sauce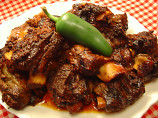 Photo by Sue Lau
Prep Time: 1 hr
Total Time: 11 hrs
Servings: 4-6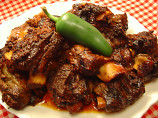 Photo by Sue Lau
About This Recipe
"Tender ribs with a flavorful, spicy chile sauce. I like to serve this with black beans or poblano chiles stuffed with a seasoned goat cheese mixture, and sometimes a small salad."
Ingredients
1 tablespoon cumin seed

4 dried ancho peppers

1 habanero peppers (optional) or 1 scotch bonnet pepper, seeded and deveined (optional)

4 -5 lbs short rib of beef

1 teaspoon cracked black pepper

4 garlic cloves, peeled

1 teaspoon salt

2 tablespoons fresh lemon juice

1 (15 1/2 ounce) cans whole tomatoes, undrained
Directions
Toast cumin seeds in a dry skillet until fragrant and allow to cool.

Grind cumin seeds in a mortar or spice mill.

Toast ancho chiles in a hot dry skillet until aromatic, about 30 seconds per side.

Soak anchos in warm water, submerged, for about 30 minutes, or until soft.

Remove anchos from liquid (discarding liquid), remove stems and seeds and discard; and cut anchos into small pieces.

Season ribs with cracked pepper and brown ribs on both sides in a skillet or under the broiler.

Place garlic, salt, lemon juice, tomatoes (with their juice), ancho chiles, habanero chile, and ground cumin seeds in a blender or food processor and process until smooth.

Place ribs in the crock pot and cover with sauce.

Cover and cook on low for 10-12 hours or on high for 5-6 hours or until ribs are tender.