Manhattan-Style Clam Chowder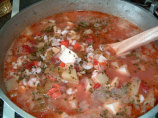 Photo by Outta Here
Prep Time: 30 mins
Total Time: 1 hr 5 mins
Servings: 4-6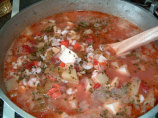 Photo by Outta Here
About This Recipe
"If you are a clam chowder lover, then this is a must try, It's great with crusty French bread and a side salad, this is not the cream-style version ;-)...even tastes better the second day!"
Ingredients
1 large onion, minced

1/2 green bell pepper, minced

1 -2 tablespoon bacon fat ( butter OR olive oil can be used, but bacon fat is more flavorful)

3 -4 stalks of destringed celery, chopped

1 -2 carrot, diced

5 -6 small potatoes, coarsly diced ( or more if desired)

1/2 cup cooking sherry (optional)

1 (1 lb) can stewed tomatoes, with peppers

3 cups chicken broth ( low salt)

1 teaspoon hot sauce ( or (to taste)

1/2 cup chopped clams or 1/2 cup minced clams

1 (1 lb) can baby clams ( UNDRAINED)

1 -2 bunch green onion, finely sliced ( TOPS ONLY)

1/2 cup chopped fresh parsley ( or any amount desired)

1 tablespoon fresh lemon juice ( or more to taste)
Directions
Saute the onion and bell pepper in the bacon fat in a large pot.

Combine all ingredients except for the clams and the garnishes.

Cook, until the potatoes are tender, but not too soft.

Add in the minced clams and the undrained clams with their juice, the onion tops, parsley and the lemon juice; cook about 5-10 minutes.