Halibut Fish Tacos with Guacamole Sauce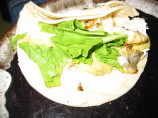 Photo by Mulligan
Prep Time: 15 mins
Total Time: 25 mins
Servings: 4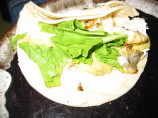 Photo by Mulligan
About This Recipe
"What a delicious way to enjoy fish. This came from 30 Minute Meals. Enjoy!"
Ingredients
4 (6 ounce) fresh halibut steaks or 4 (6 ounce) fresh halibut fillets

olive oil, for drizzling

salt and pepper

1 lime, juiced

3 medium ripe Hass avocadoes, pitted and scooped from skins with a spoon

1 lemon, juiced

1/2 teaspoon cayenne pepper

1 cup plain yogurt

1 teaspoon salt

2 plum tomatoes, seeded and chopped

2 scallions, thinly sliced on an angle

1 romaine lettuce hearts

12 soft 6-inch flour tortillas
Directions
Preheat a grill pan or indoor grill to high heat or, prepare outdoor grill.

Drizzle halibut with olive oil to keep fish from sticking to the grill pan or grill.

Season fish with salt and pepper, to your taste.

Roll lime on the counter top to get juices flowing.

Grill fish 4 to 5 minutes on each side or until opaque.

Squeeze the juice of 1 lime down over the fish and remove from the grill pan or grill.

Flake fish into large chunks with a fork.

While fish is cooking, in a blender or food processor, combine avocado flesh, lemon juice, cayenne pepper, yogurt and salt.

Process guacamole sauce until smooth.

Remove guacamole sauce to a bowl and stir in diced tomatoes and chopped scallions.

Shred lettuce and reserve.

When fish comes off the grill pan or grill, blister and heat soft taco wraps.

To assemble, break up fish and pile some of the meat into soft shells and slather with guacamole sauce.

Top with shredded lettuce, fold tacos over and eat!

Enjoy!