Spaghetti sauce with meat and chorizo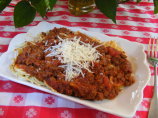 Photo by Seasoned Cook
Prep Time: 20 mins
Total Time: 1 hr 50 mins
Servings: 6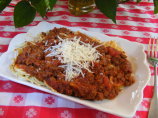 Photo by Seasoned Cook
About This Recipe
"Is it Italian? Is it Spanish? Is it original? I'm not sure, but it tasted great!!"
Ingredients
2 tablespoons oil

1 medium onion, finely diced

1 tablespoon crushed garlic

1 chorizo sausage, peeled,quartered,sliced finely ( about 100g)

450 g ground beef ( I used lamb)

1/4 cup white wine ( I used vermouth)

1 (250 g) jars tomato paste

2 (440 g) cans chopped peeled tomatoes

3 cups water

2 teaspoons dried basil

2 teaspoons dried oregano

1 pinch mixed spice ( pumpkin spice is similar)

1 teaspoon celery salt

3 tablespoons chopped fresh parsley
Directions
Heat the oil in a large pan over medium heat.

Add the onion and cook for about 5 minutes, or until it softens.

Add the garlic and saute for a further 5 minutes-don't allow to burn.

Add the sliced chorizo, and cook for a couple of minutes, until the fat starts to run.

Now add the meat and brown really well.

I've learned to do this (thanks Evelyn/Athens) over about 15 minutes to get a really good flavour, so be patient.

At this stage, I drain all the fat and oil off that I can.

Pour in the wine, and cook for a couple of minutes, then add the tomato paste, and cook a couple of minutes more.

Add the chopped tomatoes, water, herbs, mixed spice and celery salt and bring to the boil.

Reduce to a simmer, and cook gently for about 2 hours uncovered, stirring occasionally and making sure not too much water has evaporated or that the dish is sticking.

Stir through the parsley before serving over pasta of your choice.