Glass Noodle Casserole with Shiitakes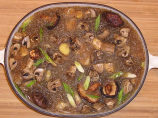 Photo by Jenny Sanders
Prep Time: 20 mins
Total Time: 40 mins
Servings: 4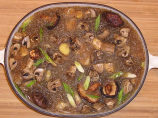 Photo by Jenny Sanders
About This Recipe
"This is a quick and easy side dish with a Chinese flair. I love glass noodles, also known as cellophane noodles, transparent noodles, or bean-thread noodles. They are made with mung bean starch, and are purchased as a stiff twiggy bundle. The bundles vary in size; this recipe calls for the smallest bundles available. When cooked they turn clear and slippery and soak up flavours most beautifully."
Ingredients
3 (50 g) packages bean thread noodles

boiling water, to cover

2 cups quartered mushrooms

3 -4 slices fresh ginger

8 medium dried shiitake mushrooms

2 green onions, sliced

4 cups chicken stock

2 tablespoons oyster sauce

4 tablespoons chopped fresh cilantro (optional)
Directions
Preheat the oven to 350°F.

Soak the noodles in boiling water.

When they are soft and transparent, drain well and discard any bits which stay white.

Meanwhile, prepare the vegetables.

Layer them in a small deep casserole dish with the noodles.

Drizzle with the oyster sauce, and pour over the chicken stock, enough to just cover. (You may not need all 4 cups.)

Bake at 350°F for 20 minutes.

Serve garnished with the cilantro, if you like.