Wicked Shrimp by Mean Chef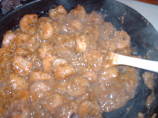 Photo by MelinOhio
Prep Time: 15 mins
Total Time: 20 mins
Servings: 2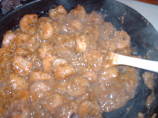 Photo by MelinOhio
About This Recipe
"Not for the faint of heart. I adopted this recipe in September, 2006."
Ingredients
1 lb prawns ( 21-25 count)

1/2 cup flour

2 tablespoons clarified butter or 2 tablespoons vegetable oil

2 tablespoons steak seasoning ( any brand works)

1 1/2 teaspoons garlic

1/2 tablespoon cayenne pepper

1/2 tablespoon black pepper

1 teaspoon kosher salt

1 teaspoon red pepper flakes

1 teaspoon thyme

1 teaspoon rosemary

1 teaspoon oregano

1/4 cup white wine

1/2 cup dark beer or 1/2 cup ale

1 1/2 teaspoons Worcestershire sauce

2 tablespoons butter
Directions
Coat prawns in flour.

Heat clarified butter or vegetable oil on high heat.

Add prawns to saute pan.

Coat with steak seasoning (your favorite store brand like Lawry's or Johnny's will work fine).

Add garlic to pan.

To make the spice mixture, mix cayenne pepper, black pepper, salt, red pepper flakes, thyme, rosemary and oregano.

Grind them together in a spice grinder or food processor.

Top prawns with the spice mixture.

Add white wine, beer and Worcestershire sauce to pan.

Simmer 2-3 minutes until prawns are cooked.

Swirl in butter to finish the sauce.

Serve with a thick rustic bread.

Serves 2.