Lovely and Luscious Mug of Coffee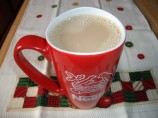 Photo by Domestic Goddess
Prep Time: 1 min
Total Time: 2 mins
Servings: 1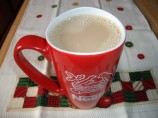 Photo by Domestic Goddess
About This Recipe
"I used to be a major coffee snob, buying the best beans, grinding them myself, looking down my nose at people who drank instant coffee. Then I went off coffee for a while. Now I'm back, and have seen the light, some instant coffee isn't that bad. Since I started Somersizing I've been taking my coffee with cream instead of milk, and that makes it even better. This is my favorite cup of coffee, my first aaaaahhhhhh of the morning. Use 1 15 ounce mug (with Recipezaar logo -- see note below)"
Ingredients
1 1/2 teaspoons taster choice gourmet roast instant coffee

1 1/2 teaspoons taster choice hazelnut instant coffee

11 ounces boiling water

3 ounces cream ( not milk, not skim milk, real cream)
Directions
Place both coffees in bottom of mug.

Add hot water.

Stir.

Add sugar to taste (I like my coffee without sugar).

Stir.

Add cream.

Stir.

Aaaaaaahhhhhh!

Note below: You can get a Recipezaar mug at CafePress.com (just go to http://www. cafeshops. com/recipezaar. 6946752).