P.B.J.(sandwich-shaped ) Cookies: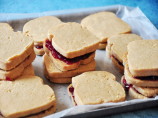 Photo by SharonChen
Prep Time: 15 mins
Total Time: 25 mins
Yield: 24 cookies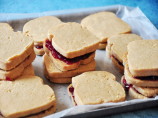 Photo by SharonChen
About This Recipe
"These are the "CUTEST" cookies I ever saw!! So much Fun to make & the Kids can help with the jelly!! They are a Big hit with the grownups as well as the kids! One of my friends at work made them & brought them in AND I just had to get this recipe & I am gald I did !The time is split up because of the refrigeration on the dough! So the dough can be made the day before if you wish! Its EASY & FUN & CUTE !!"
Ingredients
3/4 cup firmly packed light brown sugar

1/2 cup butter, soften

1/3 cup chunky peanut butter

1 large egg

1 teaspoon vanilla extract

1 1/2 cups unsifted all-purpose flour

1/4 teaspoon baking powder

1/8 teaspoon salt

2 tablespoons grape jelly
Directions
In medium-size bowl, with electric mixer on medium speed, beat brown sugar, butter & peanut butter until light & fluffy.

Beat in egg & vanilla until well mixed.

Reduce mixer speed to low; gradually beat in flour, baking powder & salt.

Gather dough into a ball: form into a 12-inch long log, With fingers, press dough to resemble a loaf of bread by making top round & squaring off bottom.

Wrap & refrigerate dough several hours or until firm enough to slice.

Heat oven to 350*f.

Lightly grease 2 baking sheets.

With sharp knife, cut dough crosswise into 1/4- inch thick slices.

Place slices, 1 inch apart, on greased baking sheet.

If necessary, reshape cookie slices to resemble a slice of bread.

Bake cookies 8-10 minutes ot until just golden brown at edges.

Cool cookies 2 minutes on baking sheet, than transfer to wire rack & cool completely When cookies are cool, turn half side down on work surface.

Spoon 1/4 teaspoon grape jelly on each and top with another cookie, right side up.

Gently press cookies together to spread jelly evenly.

Store in airtight container.