Potato Bread (using instant potato and dry milk)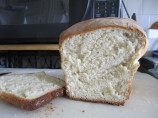 Photo by Kitsune
Prep Time: 3 hrs
Total Time: 3 hrs 40 mins
Yield: 2 loaves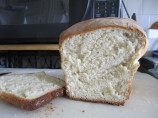 Photo by Kitsune
About This Recipe
"This is a measured variation of a Nanny Stackhouse recipe. She made 9-12 loaves of this delicious bread every Saturday to give away to family and friends. The Monticello Grange sure misses her cooking!"
Ingredients
1/2 cup instant potato flakes

1/2 cup hot water

2 cups hot water

1/3 cup shortening

1/4 cup sugar

1 tablespoon salt

2 packages dry yeast

1/2 cup lukewarm water

1 cup dry milk, added to

3 cups flour

5 -6 cups flour

2 teaspoons oil ( approx)
Directions
Mix potato flakes and water to make 2/3 c.

mashed potato Place in a large bowl.

Stir in next four ingredients (hot water, shortening, salt and sugar) Set aside to cool.

Stir yeast into ½ c.lukewarm water.

When potato mixture is cooled to lukewarm, add yeast mixture.

Add dry milk/flour mixture to potato mixture and beat well.

Add 2 cups of flour beat until smooth.

Add 2 more c. flour.

Beat until smooth.

Place about 1 c. of flour on your bread board.

Turn out dough on floured board and knead for 5 minutes.

Add more flour as needed.

Oil a bowl and place kneaded dough in it.

Brush top of dough with a bit more oil.

Cover with a towel and let rise until doubled.

Punch down and halve dough.

Knead each half on floured board and form into two (three) loaf shapes.

Grease two 5x9 loaf pans (or 3- 4x9 pans) Place dough in pans.

Brush tops with oil.

Let rise until doubled.

Preheat oven to 400F Bake for 30-40 minutes.