Spinach-Garlic-Edamame Hummus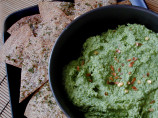 Photo by Ms B.
Prep Time: 10 mins
Total Time: 10 mins
Servings: 3-4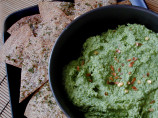 Photo by Ms B.
About This Recipe
"Whipped this up tonight since we have been a bit vegetable deficient lately. I LOVE hummus, as does my fiancé, so I thought this would be perfect. It turned out really well. This is based on my Lebanese friend's recipe for hummus--she is religious about hummus and tabbouleh, so I know I have the basic recipe down pat!! :-) Be sure to adjust anything you want; it is possible to make hummus more low in fat by reducing the amount of tahini or olive oil you add, and if you hate edamame, then omit it. Just make it up with water, stock, or the liquid from the can of garbanzo beans. IT occurs to me that this would be perfect for St Patrick's Day....it's completely green, with all the spinach and edamame."
Ingredients
3/4 cup boiled edamame, shells removed

1 cup frozen chopped spinach ( 1 small package)

1 (12 ounce) cans garbanzo beans, drained

6 garlic cloves ( this can be very strong, if you have an aversion to STRONG garlic taste, reduce the garlic!)

1/2 cup tahini

1/4-1/2 cup olive oil ( I usually add the amount I need to get the consistency right)

2 teaspoons sea salt ( about)

1 tablespoon red pepper flakes ( I love these(but they make the hummus VERY HOT) (optional)
Directions
Combine all in food processor.

Add olive oil (water, or the "juice" of the garbanzo beans, if you wish)--either of these reduce fat to desired consistency.

This is EVEN better leftover.