Christmas Jam (Pectin Version)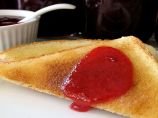 Photo by Calee
Prep Time: 15 mins
Total Time: 50 mins
Yield: 14 half pint jars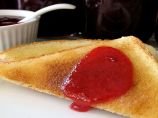 Photo by Calee
About This Recipe
"posted by request - I haven't tried this one yet. Adapted from Taste of Home magazine. NOTE: This recipe assumes knowledge of proper hot water bath canning techniques. Makes approximately 14 half pints."
Ingredients
2 (20 ounce) packages frozen strawberries or 2 1/2 quarts fresh strawberries, hulled

1 lb cranberries, fresh or frozen

5 lbs granulated sugar

2 (3 ounce) envelopes liquid fruit pectin
Directions
Using a food processor, grind up the berries until smooth.

Place in a large stockpot with sugar and pectin and stir to coat.

Bring to a full, rolling boil and keep it boiling for 1 minute (use a timer) stirring the entire time.

Remove from heat immediately and let cool 5 minutes (use the timer again).

Skim off any foam that has risen to the top.

Pour into clean, hot, sterilized canning jars, leaving 1/4" space at the top of each jar.

Put on caps and process 15 minutes in a hot water canning bath.

Remove from canning bath with sterile canning tongs and let cool upside down overnight, making sure each jar has properly sealed.