Kittencal's Beef or Pork Marinade and Tenderizer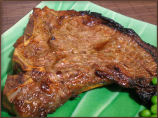 Photo by Sandi (From CA)
Prep Time: 10 mins
Total Time: 10 mins
Yield: 2 pounds meat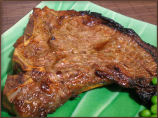 Photo by Sandi (From CA)
About This Recipe
"This is a teriyaki style marinade ---who ever said that marinades are only for flavor and not tenderizing has never tried this recipe! this marinade produces the most fabulous tasting beef and pork and tenderizes like nothing you have ever had before! I developed this recipe almost 20 years ago and still use it to this day, this works fabulous on a London Broil, it makes the best kabobs and pork tenderloins!--- the longer the meat marinades the more tender and juicy it will be, so plan ahead the meat needs to stay in the fridge for a minimum of 8 hours to 24 hours (even better if left for 24 hours!) the amounts listed are enough for 2 pounds beef or pork so you might want to double or even triple the ingredients, if I am doubling or tripling I usually cut back on the soy sauce and still only use 2-3 tablespoons fresh garlic, you can add in 1 teaspoon dry mustard powder also, the powdered meat tenderizer is only optional you do not have to use it this works great even without it! don't forget to allow the meat to come down to almost room temperature before cooking, this will relax the meat fibers and create a more tender meat --- DO NOT substitute the honey for anything else but pure maple syrup, and if possible I recommend using honey that is what works as the tenderizer"
Ingredients
1/3 cup soy sauce

1/4 cup red wine vinegar or 1/4 cup cider vinegar

3/4 cup olive oil or 3/4 cup vegetable oil

2 -3 tablespoons fresh minced garlic

1 teaspoon black pepper

1/2 teaspoon ginger powder ( if you prefer a stronger ginger flavor then add in more)

4 tablespoons liquid honey ( or 4 tablespoons maple syrup, DO NOT substitute brown sugar or white sugar or pancake syrup)

3 tablespoons Worcestershire sauce

2 teaspoons powdered meat tenderizer (optional)
Directions
In a large bowl combine all ingredients except the meat; mix/whisk until very well combined.

You may now transfer the marinade to a large resealable plastic bag if desired or leave in a large bowl.

Pierce the meat all over with a fork.

Add the meat to the marinade then turn to coat.

Refrigerate for at least 8 hours or overnight.

Remove meat and discard the marinade.

Leave the beef or the pork sit out on the counter and bring almost room temperature, this will relax the meat fibers and make for a more tender juicy steak or cut of beef or pork (this is a very important step!).

Grill or oven-broil to desired doneness.