Pumpkin (Or Squash) Pancakes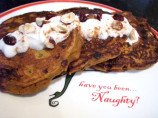 Photo by FLKeysJen
Prep Time: 10 mins
Total Time: 20 mins
Servings: 4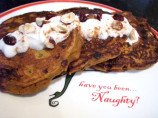 Photo by FLKeysJen
About This Recipe
"A nice way to start Thanksgiving Morning with these moist and spicy pancake! You can use can or your own roasted and pureed pumpkin, butternut, acorn squash, sweet potatoes, or your favorite squash. Try topping with Amaretto Pecan Syrup Apple Pancakes with Amaretto Pecan Syrup or and Pecan Honey Butter Pecan Honey Butter"
Ingredients
1 cup all-purpose flour

1 1/2 teaspoons baking powder

1/2 teaspoon salt

1 teaspoon cinnamon

1/8 teaspoon ground nutmeg

1/8 teaspoon ginger

1/8 teaspoon allspice

2 eggs, slightly beaten

1/2 cup pumpkin puree

1/2 cup packed brown sugar or 1/4 cup molasses

1/2 cup buttermilk

2 tablespoons light olive oil

1/3 cup chopped dried cranberries or 1/3 cup mini chocolate chip

1/3 cup chopped roasted hazelnuts ( or nuts of choice)

Garnish
Directions
In a large bowl, sift together flour, baking powder, salt, and spices.

Set aside.

In another bowl, beat eggs slightly.

Add pumpkin or squash puree, brown sugar or molasses, buttermilk and olive oil.

Mix until smooth.

Blend in the dry ingredients all at once.

Mix until batter is smooth.

Allow batter to rest for 30 minutes or more.

Stir cranberries and nuts into batter, and if batter is to thick thin with additional tablespoon of buttermilk.

To make pancakes, spoon a heaping tablespoon of batter onto a lightly greased preheated griddle or heavy skillet.

Cook slowly until bubbles appear on top and bottom is golden brown.

Lift edge to check.

Turn and cook until other side is golden brown.

Continue making pancakes until all batter is used.

Makes about 24, 3-inch pancakes.

Garnish with cinnamon & powdered sugar, maple syrup or your favorite pancake syrup.