Thick n' Hearty Spaghetti Sauce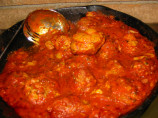 Photo by Caroline Cooks
Prep Time: 20 mins
Total Time: 4 hrs 20 mins
Servings: 4-6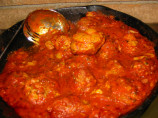 Photo by Caroline Cooks
About This Recipe
"This is based on a very simple family recipe, with my own twist - one even my mother prefers! It's cooked down to be extra thick, and excellent for cold winters."
Ingredients
1 lb ground beef

2 (14 1/2 ounce) cans stewed tomatoes

1 (15 ounce) cans tomato sauce

1 (6 ounce) cans tomato paste

2 (4 ounce) cans mushroom pieces ( or fresh ones to taste, if you prefer)

garlic

parsley ( dried or fresh)

dried oregano

dried sage

basil

pepper

sugar ( if desired to cut acidity)
Directions
In a large pot (I use cast iron), quickly and thoroughly brown the ground beef.

Drain and add mushrooms, followed by garlic (I use at least a tablespoon in this step), parsley (a lot), oregano, sage, and basil.

Add tomatoes, sauce, and paste; stir together.

Cook on med-high for 5-10 minutes, then reduce heat to med-low.

Allow to simmer covered about one hour, stirring occasionally.

Add garlic, pepper, basil, oregano, sage, and parsley to taste (also sugar).

Cook covered on med-low for 2 hours.

Add more seasoning to taste.

Cook covered on med-low for another 30 minutes-1 hour.

At this point, the sauce should be thick, cooked down about halfway.

Serve with your favorite pasta or on slices of bread with parmesan or cheddar.