Zucchini Lasagna (Lasagne) - Low Carb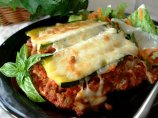 Photo by Marg (CaymanDesigns)
Prep Time: 20 mins
Total Time: 50 mins
Servings: 4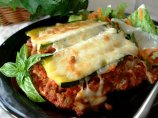 Photo by Marg (CaymanDesigns)
About This Recipe
"Great for anyone going low carb OR who has so many zucchini, they don't know what to do!! :) We found the sauce to be very mild. I think it would be better with twice as much garlic. I boiled my zucchini slices for about 3 minutes so they were partially cooked. I wanted to make sure they were soft in the finished dish or I knew the kids wouldn't eat them. ;) The cottage cheese provides a slightly tangy note. I think we would have preferred ricotta, but that is personal taste. I use my 11x7 baking dish and got 6 pieces the size of what you see in my photos. Both of the guys ate two so it fed 4 of us, and I double the meat. Adjust the recipe accordingly for your family."
Ingredients
2 1/2 cups zucchini, sliced lengthwise 1/4 inch thick ( about 2 medium)

1/2 lb lean ground beef ( I use 1 lb.)

1/4 cup onion, chopped

2 small tomatoes, cut up

1 (6 ounce) cans tomato paste

1 garlic clove, minced

1/2 teaspoon dried oregano

1/2 teaspoon dried basil

1/4 teaspoon dried thyme

1/4 cup water

1/8 teaspoon pepper

1 egg

3/4 cup low fat cottage cheese ( or low fat or fat free ricotta)

1/2 cup mozzarella cheese, shredded ( I use 8 oz. divided)

1 teaspoon flour
Directions
Cook zucchini until tender, drain and set aside. Fry meat and onions until meat is brown and onions are tender; drain fat. Add next 8 ingredients and bring to a boil.

Reduce heat; simmer, uncovered 10 minutes or until reduced to 2 cups.

In small bowl slightly beat egg.

Add cottage cheese, half of shredded cheese and flour.

In (1 1/2-qt.) baking-roasting pan arrange half of the meat mixture. Top with half of the zucchini and all the cottage cheese mixture. Top with remaining meat and zucchini.

Bake uncovered at 375 degrees F for 30 minutes.

Sprinkle with remaining cheese. Bake 10 minutes longer.

Let stand 10 minutes before serving.