Curley's Old Fashioned Cornbread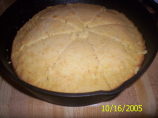 Photo by Chef shapeweaver �
Prep Time: 10 mins
Total Time: 35 mins
Servings: 8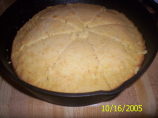 Photo by Chef shapeweaver �
About This Recipe
"This is my mother's recipe. It was on the menu at every cafe she cooked. This cornbread has a great crisp crust yet the inside is soft and tender. It is a perfect accompaniment to soups, stews and the southern standard, "a big ole pot of brown beans.""
Ingredients
1 cup all-purpose flour

1 cup cornmeal, my mother used stoneground but any is fine ( not mix)

1 tablespoon baking powder

1/4 teaspoon salt

1/4 teaspoon baking soda

1 -3 tablespoon sugar, depending on how sweet you like it

1 1/4 cups buttermilk

1 large egg

1/4 cup corn oil

3 tablespoons butter
Directions
Preheat oven to 375 In a large bowl, combine flour, cornmeal, baking powder, salt, baking soda, and sugar.

(If baking powder or soda appear at all lumpy, sift them in).

Stir well to combine.

In a small bowl, whisk together buttermilk, egg, and oil.

Place the butter in a 9 or 10 inch skillet and place in the oven and heat until the butter melts and is sizzling seriously.

Tilt the pan to coat the sides of the skillet.

As the butter's melting, quickly pour the wet ingredients into the dry, and, using a wooden spoon, stir the wet and dry together with as few strokes as possible--- only as many as are needed to combine the two.

Don't beat it!

Scrape the batter into the hot, buttery skillet.

It should sizzle.

Place it in the oven immediately.

Bake until golden brown on top, about 25 to 30 minutes.