Spiced Apple Slices / Apple Chips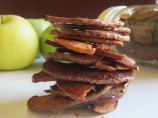 Photo by Rita~
Prep Time: 5 mins
Total Time: 1 hr 5 mins
Servings: 6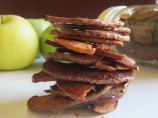 Photo by Rita~
About This Recipe
"Spicy, Tart, and Sweet Oven Dried Apples. I like Granny Smiths but use what firm apples you prefer. I made this with candies ginger just pulse in the grinder along with the cardamom. I like the uneven amounts of spices on each slice. This way those that like it can pick the more spiced ones."
Ingredients
4 granny smith apples, sliced with the pampered chief apple peeler corer slicer then cut in half so you have thin slice

1.23-2.46 ml cardamom seed ( I just love cardamon but you can skip or cut it down to 1/4 teaspoon)

4.92 ml ground cinnamon

1.23 ml ground cloves

1.23 ml ground allspice

1 fresh nutmeg, ground

24.64 ml sugar
Directions
Put cardamon in a coffee grinder (Used for spices not coffee. Grind till fine add rest of the sugar and spices give a couple of whirls to mix into a fine powder).

Lay parchment paper on 2 cookie sheet pans.

In a storage bag add spices and apples toss gently to coat, shaking excess spices off place on parchment in a single layer. You can sprinkle a little extra sugar on the slices this is optional.

Dry in a 250 degree oven 1 to 3 hours depending on how juicy the apples are. Turning after 1 hour.

They come out crisp,sweet and tart.

Store in an air tight container if for some reason there is any left over.