Caribbean Christmas Cake (Known As Black Cake)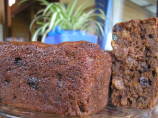 Photo by Coco Hii
Prep Time: 20 mins
Total Time: 1 hr 50 mins
Servings: 12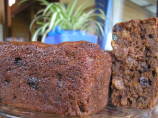 Photo by Coco Hii
About This Recipe
"I have never made this recipe; posted in response to a request. I worked with a woman from Guyana many years ago, and she brought a Black Cake to a Christmas party one year; it was fabulous!"
Ingredients
1/2 lb butter, softened

1 cup sugar

2 tablespoons browning sauce ( helps to darken the cake, especially if you don't use dark rum in the cake) (optional)

1 teaspoon vanilla

1 1/2 cups all-purpose flour

1 teaspoon baking powder

1 teaspoon cinnamon

1/2 teaspoon allspice

1/2 teaspoon salt

4 large eggs

1 cup dark rum ( brandy can be substituted, as can red wine)

1/4 lb mixed peel

1/4 lb cherries

1/4 lb mixed nuts (unsalted) or 1/4 lb nuts, of your choice

1/2 lb prune, chopped

1 lb raisins

1 lime, zest of, freshly grated

1 lemon, zest of
Directions
Preheat oven to 325°F; spray a nine-inch cake pan with nonstick cooking spray and set aside.

In a mixing bowl, beat together the butter, sugar, vanilla and browning until soft and creamy.

In a separate bowl, sift together the dry ingredients.

In a third bowl, beat the eggs with the rum.

Add egg mixture to butter mixture and thoroughly combine, then stir in zest, fruit and nuts.

Fold in flour mixture; do not overbeat.

Put batter into prepared pan and bake in preheated oven for approximately 90 minutes, or until cake tests done; may need longer.

Remove cake from pan when cool.