Denise's American Chop Suey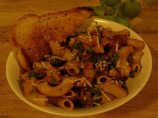 Photo by Tarteausucre
Prep Time: 20 mins
Total Time: 45 mins
Servings: 6-8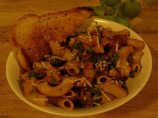 Photo by Tarteausucre
About This Recipe
"This is my basic recipe for American Chop Suey. I sometimes add more spices to give it a little different taste, maybe a little Sage, Thyme or whatever. My DH said it wouldn't be "normal" if I followed my recipe exactly. This is a real comfort food. The Prep and Cook time are estimates"
Ingredients
1 (1 lb) box elbow macaroni

1 -1 1/2 lb ground beef

2 (10 1/2 ounce) cans tomato soup

1 (14 1/2 ounce) cans diced tomatoes

1/4-1/2 cup dry red wine

2 green bell peppers, diced

1 large onion, diced

2 stalks celery, diced

8 ounces sliced fresh mushrooms

2 -3 teaspoons minced garlic

1 teaspoon oregano

1 teaspoon basil

2 whole bay leaves

3 -5 dashes Worcestershire sauce

salt and pepper

2 tablespoons olive oil
Directions
Cook macaroni according to package directions.

Spray a large skillet with a cooking spray like pam.

Add about two tablespoons Olive Oil.

Brown the ground beef.

Add the peppers, onions, celery, garlic and mushrooms and continue to cook till vegetable are almost tender.

Add the tomato soup, diced tomatoes, wine and the spices.

Simmer for about 20 minutes.

Drain cooked macaroni and place in a large bowl.

pour the tomato mixture over the macaroni and mix well.

Serve with lots of freshly grated Parmesan cheese.