Country White Bread or Dinner Rolls (Bread Machine)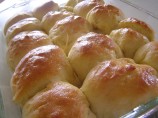 Photo by Dine & Dish
Prep Time: 30 mins
Total Time: 45 mins
Servings: 15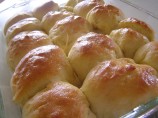 Photo by Dine & Dish
About This Recipe
"We think this is the best white bread recipe ever! It is a tender bread with a slightly sweet taste. My dinner rolls using this dough are so good, everyone always loves them. It doesn't take to long to make them when the bread maker does most of the work. The cook time is listed for the rolls only because everyone's bread makers cooks at different rates. Mine is older and a regular loaf will take 4 hours and 10 minutes. I have found that 15 balls of dough fit perfectly in the 9X13 pan with sides touching after raising the 2nd time but they can be made whatever size you want. I hope you enjoy this great bread as much as we do."
Ingredients
1 cup water, plus

1 tablespoon water ( 70-80 F)

1 large egg

4 1/2 teaspoons vegetable oil

3 1/4 cups bread flour

1/4 cup sugar

1 1/2 teaspoons salt

2 1/4 teaspoons instant yeast

2 tablespoons melted butter ( for dinner rolls only) (optional)

2 tablespoons shortening ( for dinner rolls only) (optional)
Directions
In bread machine pan, place all ingredients from flour through yeast in order as recommended by the manufacturer.

Select the basic bread setting.

Check dough after 5 minutes of mixing, if needed add 1-2T of water or flour.

Bake as normal.

For dinner rolls.

Mix in bread machine but use only the dough option.

Lightly grease a 9 x 13 baking pan (I always use a metal pan).

When dough is finished shape into 15 uniformly sized balls. I always grease my hands with shortening to smooth the dough out and it helps keep the dough from drying out.

Cover and let the rolls rise in a warm, draft free place until risen to the desired size.

I let them about double in size.

Bake in a 350° oven about 12-15 minutes until golden brown.

After removing from the oven, brush the tops of the rolls with melted butter.

Take out of pan and let completely cool before storing.