Tofu Lasagna -- no noodles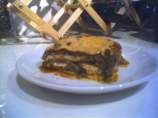 Photo by msmia
Prep Time: 1 hr
Total Time: 1 hr 45 mins
Servings: 8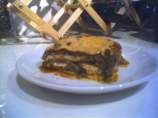 Photo by msmia
About This Recipe
"This is a yummy vegetarian, lo-carb, lo-cal dish! It is really great for freezing in individual portions to take to work for lunch. I got the original recipe from CeeCee526 on Recipezaar but I've made a number of changes -- so I'm posting it as my own. Hope you Enjoy!!"
Ingredients
14 ounces extra firm tofu ( press out liquid & slice very thinly)

1/2 cup textured vegetable protein ( texturized vegetable protein)

1/2 cup vegetable broth ( from boullion)

1 teaspoon fennel

1 jar pasta sauce ( I use Prego mushroom)

2 tablespoons olive oil

10 ounces frozen chopped spinach, thawed

8 ounces mushrooms, sliced

1/4 teaspoon Molly McButter ( approx 2 shakes) (optional)

1/4 teaspoon garlic granules

1/2 teaspoon dried parsley flakes

8 ounces fat-free cottage cheese

1/4 cup egg substitute

8 ounces mozzarella cheese, grated

dried chipotle powder ( McCormick Brand) (optional)

salt & pepper
Directions
Press tofu under heavy weight for approx.

1 hour to remove the liquid-- will make thinly slicing much easier.

Reconstitute TVP w/ hot vege broth-- let stand for 3-5 minutes then saute in olive oil in sauce pan to lightly brown.

Add jar sauce to TVP and add fennel (for a hint of sausage flavoring).

In seperate pan, saute spinach& mushrooms in oil-- add garlic, parsley, Molly McButter& salt/pepper.

In a food processor, puree cottage cheese w/ egg substitute.

Add sauted vegetables& process just to combine.

Slice tofu thinly for use as"lasagna noodles".

Start w/ a layer of sauce on the bottom of a 9x13 pan.

Layer tofu slices (season each layer of tofu w/ salt, pepper& chipotle), vegetable/cheese mixture, more sauce and then grated mozarella.

You should get about three layers-- end w/ mozarella on top Bake, covered at 350 for 45 minutes.