Scottish Cream (as opposed to Irish Cream)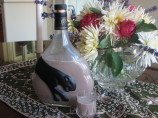 Photo by Bonnie G #2
Prep Time: 1 min
Total Time: 1 min
Serves: 16, Yield: 4 cups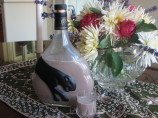 Photo by Bonnie G #2
About This Recipe
"I started making our own supply of Irish Cream a few years ago, but noticed that we never use Irish whiskey, we only have the Scottish stuff in our house, thanks to good friends and Duty Free shopping."
Ingredients
1 cup light cream ( don't use heavy or whipping cream)

1 (14 ounce) cans sweetened condensed milk

1 2/3 cups single malt Scotch whisky

1 teaspoon instant coffee

2 tablespoons chocolate syrup ( we use Hershey's)

1 teaspoon vanilla extract

1 teaspoon almond extract
Directions
Dump all the ingredients in a blender and whizz on high for 30 seconds.

Bottle in a tightly sealed container and keep in the fridge.

Be sure the shake the bottle well before serving.

This will keep for up to two months in the fridge.

Note: Don't use heavy cream, it tends to separate.

If you can't find light cream, use half and half, or whole milk.