Bombay Chicken with Red Split Lentils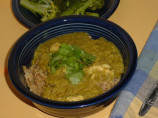 Photo by justcallmetoni
Prep Time: 15 mins
Total Time: 1 hr 45 mins
Servings: 4-6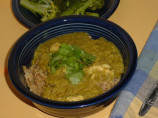 Photo by justcallmetoni
About This Recipe
"This is so fabulous. Oh my gosh it is delicious and actually not that hard to make. You can find turmeric and garam marsala at any Indian Food store and most Asian food stores. It has a super spicy (not hot but strong flavor) Indian flavor and can be hot depending on how much ground red pepper you put in."
Ingredients
1 1/4 cups red lentils

1 medium onion, chopped fine

1/2-1 hot green chili, finely sliced

2 teaspoons ground cumin

1/2 teaspoon ground turmeric

1 teaspoon finely sliced ginger ( or more to taste)

6 cups water

4 -6 boneless skinless chicken breasts

2 1/4 teaspoons salt

1 tablespoon oil

1 teaspoon whole cumin seed

2 -4 cloves garlic

1/2-3/4 teaspoon ground red pepper

2 tablespoons lemon juice

1/2 teaspoon sugar

1/4 teaspoon garam masala
Directions
Combine the lentils, onion, green chili, ground cumin, turmeric, half of the chopped ginger and 6 cups water in a big heavy pot.

Simmer and cover leaving lid slightly ajar for 45 minutes.

Next add chicken (cut into small pieces) and salt.

Bring mixture to a boil and then simmer for another 30 minutes or until the chicken is tender.

Next get a small pan out and put the tablespoon of oil in it.

When hot, put in the whole cumin seeds.

As soon as the seeds begin to sizzle (this just takes a few seconds) put in the remaining ginger and garlic.

Saute until garlic is slightly brown.

Now put in the red pepper and lift the pan up immediately and dump everything into the pot with chicken and lentils.

Finally, add the lemon juice, sugar, and garam marsala.

Stir to mix and cook for another 5 minutes or so.

You can top each serving with fresh cilantro if desired.