Slow Cooker 4th of July Chuck Roast Barbecue Sandwiches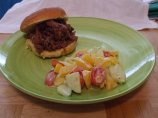 Photo by ~Ri
Prep Time: 10 mins
Total Time: 9 hrs 10 mins
Servings: 12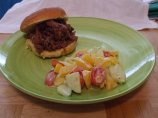 Photo by ~Ri
About This Recipe
"I made this for the 4th and it was an easy dinner to put together while my family was able to spend some time together. It doesn't have to be cooked just for the 4th of July."
Ingredients
2 1/2 lbs trimmed boneless chuck roast

2 chopped onions

1 (12 ounce) cans diet cola

1/4 teaspoon Worcestershire sauce

1 1/2 tablespoons apple cider vinegar or 1 1/2 tablespoons white vinegar

1 teaspoon beef bouillon granules

3/4 teaspoon dry mustard

3/4 teaspoon chili powder

1/4-1/2 teaspoon ground red pepper

3 cloves minced garlic

1 cup ketchup

1 tablespoon light butter

12 reduced-fat hamburger buns with sesame seeds
Directions
Place roast in a 3 1/2 or 4 quart electric slow cooker; add onion.

Combine cola and next 7 ingredients; cover and chill 1 cup sauce.

Pour remaining sauce over raost.

Cover with lid; cook on High for 1 hour.

Reduce heat to Low; cook 8 hours or until roast is very tender.

If time doesn't permit, you can omit cooking it on High for 1 hour.

Just add two hours to the Low cooking time.

Remove roast with chopped onion from cooker using a slotted spoon and shred meat with 2 forks.

Combine reserved sauce, ketchup and butter in a saucepan; cook over medium heat, stirring constantly, until thoroughly heated.

Pour sauce over shredded meat, stirring gently.

Spoon meat mixture on buns.