Spiced Peach and Blueberry Jam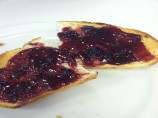 Photo by Zoshia
Prep Time: 20 mins
Total Time: 40 mins
Yield: 6 8ounce jars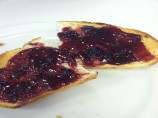 Photo by Zoshia
About This Recipe
"I got this recipe from The Woman's Day Encyclopedia of Cooking, Vol. 8. A great way to use fresh peaches!"
Ingredients
4 lbs fresh peaches

1 quart fresh blueberries

1/2 cup water

5 1/2 cups sugar

1/2 teaspoon salt

2 cinnamon sticks

1 teaspoon whole cloves

1/2 teaspoon whole allspice
Directions
Peel and pit peaches.

Force through coarse blade of food chopper.

Wash and pick over berries.

Combine with peaches in kettle, add water, and bring to boil.

Cover, and simmer for 10 minutes, stirring occasionally.

Add sugar and salt.

Tie spices in a cheesecloth bag and add.

Bring to boil slowly, stirring until sugar dissolves.

Boil rapidly for 10 minutes, or until fruit is clear.

Remove spice bag.

Ladle into hot sterilized jars, and seal.

Makes six 8-oz. jars.