Giardiniera, Sweet And/Or Hot (Pickled Vegetables)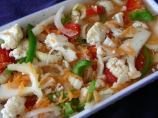 Photo by kiwidutch
Prep Time: 15 mins
Total Time: 48 hrs 15 mins
Servings: 4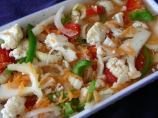 Photo by kiwidutch
About This Recipe
"Giardiniera is a mixture of pickled veggies, usually served as a condiment, side dish, or mixed into salads. Here is a recipe for making both the sweet or the hot variety. Basically its the same vegetable mix, the sweet version contains sugar in the marinating liquid, the hot version does not. The sweet version takes 2 days to marinate. The hot version takes 2 to 3 weeks. Since I don't can, I can't give you instructions for that....sorry. The "cook time" is the marinating time for the sweet version."
Ingredients
Basic Giardiniera Vegetables

1 lb green Italian olives, crushed

1 large yellow onion, sliced ( or 1 cup tiny pearl onions, peeled)

1 garlic clove, sliced thin

2 carrots, peeled and sliced diagonally

1 stalk celery, sliced diagonally

2 cups cauliflower florets, cut into small chunks

1 cup broccoli floret ( optional, omit in hot version)

1/2 red bell pepper, quartered and sliced

1/4 cup hot pepper ( or less to taste for hot version only)

Sweet

1/2 cup white vinegar or 1/2 cup dry white wine

1/2 cup water

1/4 cup sugar

2 teaspoons salt

6 peppercorns

1 tablespoon dry dill weed

Hot

1 cup water

1 cup white vinegar

1 tablespoon salt
Directions
Sweet: Combine all ingredients and refrigerate in a clean, tightly closed glass jar for 2 days before serving.

Hot: Combine the water, vinegar, and salt in a pan and boil for a minute or so.

Pour the hot mixture over the vegetables leaving 1/4 inch head space and cover.

Allow the hot peppers and vegetables to pickle in a cool place for 2 to 3 weeks before serving.