Travelin' Chili - Five Can Chili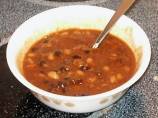 Photo by CrystalA
Prep Time: 5 mins
Total Time: 35 mins
Servings: 4-6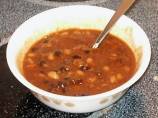 Photo by CrystalA
About This Recipe
"A while back, my husband and I were going to an event where we'd be camping for several days without refrigeration. One of the nights we wanted chili, but didn't want to have to keep anything on ice. I came up with a very tasty concoction - extremely simple, a bit lazy, and delicious!"
Ingredients
1 (15 ounce) cans chili without beans ( such as Dennisons or Nalley)

1 (11 1/2 ounce) cans condensed bean with bacon soup ( Campbells)

1 (14 ounce) cans black beans, drained ( I use black soybeans)

1 (10 ounce) cans Rotel Tomatoes, with juice

1 (4 ounce) cans diced mild green chilies

Spice mix

1 1/2 tablespoons dried onion flakes

1 teaspoon garlic powder

1/2 teaspoon cumin

1/2 teaspoon dried ancho chile powder

1/2 teaspoon chili powder, to taste

1/2 teaspoon beef bouillon granules
Directions
Before going on your trip, mix together the spice mix and place it in a Ziploc bag.

When ready to cook the chili, mix all the canned items together and add a 3/4 soup-can full of water.

Add the spice mix and stir well.

Cover and let simmer for at least 30 minutes before serving with good, crusty bread.

If you have cheddar cheese, sprinkle some of it grated over the top!

Other options: add another can or two of beans (whatever sort you like, kidney, black eyed, etc -- I've used garbanzos, butter beans, runner beans, soldier beans, all sorts!), and another can of Rotel to stretch it for 10 to 15 people. And if you want more meat, put about a pound of cooked ground beef (or turkey, or buffalo, or pork, or whatever) in, too. If you want to do it in a crockpot, dump it in and put it on low for about 4 hours. Easy!