Chicken Stew with Roasted Balsamic Vegetables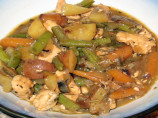 Photo by yogiclarebear
Prep Time: 15 mins
Total Time: 55 mins
Servings: 6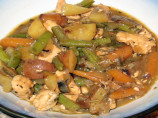 Photo by yogiclarebear
About This Recipe
"i adopted this recipe and it looks great! it was attributed to the looneyspoons cookbook.... i have not made this----yet!"
Ingredients
4 cups unpeeled cubed red potatoes

2 cups whole baby carrots

1 cup chopped red onion

2 tablespoons balsamic vinegar

1 tablespoon olive oil

1 clove garlic, minced

1 1/2 teaspoons dried thyme

1 1/2 teaspoons dried rosemary

1 teaspoon dried tarragon

1/2 teaspoon salt

1/2 teaspoon pepper

1 cup sliced green beans

1/2 cup dry white wine

6 boneless skinless chicken breast halves, cut into 1 inch cubes

3 cups low-fat chicken broth

3 tablespoons flour
Directions
Lightly grease a large roasting pan.

Add potatoes, carrots, onions, vinegar, oil, garlic, 1 tsp thyme, 1 tsp rosemary, tarragon, salt, and pepper.

Mix well.

Roast, uncovered, at 425 degrees F for 30 minutes minimum, stirring after 15 minutes.

Add green beans and roast 10 minutes longer.

Meanwhile, put wine and balsamic vinegar with remaining thyme and rosemary into a large saucepan.

Bring to a boil.

Add chicken cubes.

Reduce heat to medium-high.

Cook, uncovered, for about 12 minutes, or until chicken is cooked.

Add roasted vegetables to saucepan.

Stir in 2 1/2 cups broth.

In a small bowl, stir together flour and remaining broth until no lumps remain.

Add to saucepan.

Cook for about 3 minutes, until stew is bubbly and thickened.

Serve hot.