Anne of Green Gables Chocolate Goblin's Food Cake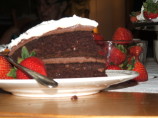 Photo by Antifreesz
Prep Time: 1 hr
Total Time: 1 hr 35 mins
Yield: 1 Cake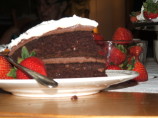 Photo by Antifreesz
About This Recipe
"This recipe is the Anne of Green Gables Cookbook, by Kate MacDonald. This the excerpt from the book that inspired this recipe: "I just grow cold when I think of my layer cake. Oh, Diana, what if it shouldn't be good! I dreamed last night that I was chases all around by a fearful goblin with a big layer cake for a head." -Anne of Green Gables"
Ingredients
1 3/4 cups sfted all-purpose flour

1 1/2 teaspoons baking soda

1/2 teaspoon baking powder

1 teaspoon salt

1 1/2 cups sugar

4 ounces unsweetened chocolate

1 cup milk

3/4 cup melted butter

3 large eggs

1 teaspoon pure vanilla extract
Directions
Preheat oven to 350 degrees.

Grease and flour 2 9-inch round cake pans.

In a small saucepan boil a little water--about 1 cup.

Set a samll mixing bowl over the boiling water and add the chocolate.

Turn the heat to low and melt the chocolate.

Remove the bowl and let it cool.

Measure the sifted flour, soda, baking powder, salt, and sugar to a large mixing bowl.

Mix dry ingredients together.

Add chocolate, milk, and melted butter to the flour mixture.

Mix together then beat for 1 minute with electric mixer.

Add eggs and vanilla to the cake batter and mix another 3 minutes with the mixer constantly scraping down the sides with an rubber spatula.

pour cake batter into prepared pans, dividing evenly.

Bake for 30 to 35 minutes.

Test cake with a toothpick.

when the cake layers are done remove from the oven and let cool in the pans for 10 minutes.

Remove from pans onto a cooling rack and let cool completely before frosting.

Frost with Chocolate Fudge frosting.