Roasted, Herbed Baby Chickens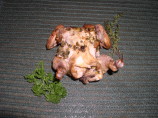 Photo by -Sheri-
Prep Time: 30 mins
Total Time: 1 hr 5 mins
Servings: 4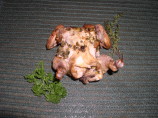 Photo by -Sheri-
About This Recipe
"Small birds, such a baby chickens, or cornish hens can be served one per person. Poulty lovers will delight in this very simple recipe. Ideal for the working family with little time for meal preparation. Serve with (wild) rice pilaf or roasted parisienne potatoes, steamed baby green beans,or steamed snow peas. Accompanied by chilled Chardonnay, your taste buds will thank you, and your dinner guests will think you are a genius. One of my favourite series of cook booklets (Classic Essential Roasts) available in Sydney, Australia, London, Vancouver and New York. produced by the Hawthorne Press."
Ingredients
5 1/2 butter, softened

2 teaspoons fresh lemon thyme, chopped

1 tablespoon fresh parsley, chopped

2 spring onions, finely chopped

1 teaspoon fresh lemon rind, finely grated

2 tablespoons lemon juice

1/2 teaspoon salt

1/4 teaspoon pepper

4 (1 lb) baby chickens
Directions
Mix 4-1/2 oz butter with the herbs, spring onion lemon rind, 3/4 lemon juice, salt and pepper.

Preheat oven to 400 degrees F (200C).

Using your poultry shears, cut down either side of the backbone.

Discard the backbone and gently flatten the chickens.

Lift the skin from the breastbone and the legs.

Gently push the butter between the skin and flesh.

Tuck the wings and neck inward.

Lay the chickens on a rack in a shallow baking dish.

Brush with the remaining butter and juice mixture.

Bake for 30-35 minutes, or until the juices run clear.

Remove from oven when done, and set aside for 5 minutes before serving.